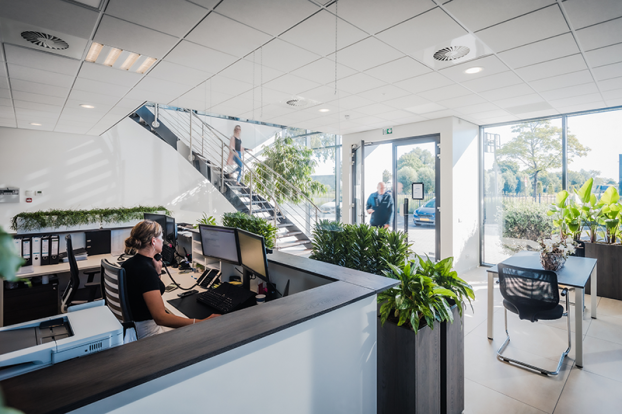 We are always looking for motivated people that will fit in various departments in our dynamic business! Read on for more information, and see if we are a good fit for you!
Position description
Solutions Uitzendbureau is an employent agency, located in the Westland (near Rotterdam) where every day we do everything to maximize the happiness of our flexworkers and clients.
We do this working together: the recruiters are the first contact for our flexworkers and explain the job possibilities including the salary and everything about the regulations. Our housing department provides our accomodation and explains the housing regulations we have. Then the fleetmanagement is done by another department: they control our 400 company cars that our flexworkers use. All the work shifts of our flexworkers are planned by our planning and transport department; with the teams they plan around 1700 shifts per day, including the organization of the transportation if needed. We also have a position for coordinator: when a client asks a a larger amount of flexworkers from us, we also provide our flex services at the clients location and we dedicate a colleague especially to guide this client and its flexworkers.
Next to colleagues who work with flexworkers, we have an important sales department. Their goal isto attract new clients and to manage our relations with our current clients.
Besides these daily operations, we also have professional front- and backoffice departments. For example marketing that also carries out our recruitment marketing, or our backoffice department who work with the contracts and payments of our flexworkers. And last but not least: don't forget about our finance department that controls our incomes and payments!
We communicate mainly in Polish and English and on some departments Dutch is also necessary, this depends on the position within the company..
Furthermore, we have a transparent culture, we like to treat each other well and honest, and we are proud of what we do. We all work with the same goal: satisfied clients and flexworkers. We like to see this professional enthusiasm in all our colleagues.
What we are looking for:
What we ask at a minimum is:
Secondary vocational education level (MBO)
For some jobs higher professional education (HBO) is necessary
English and Polish language, sometimes also Dutch
40 hours per week available
If you provide us with a motivational letter, we can discuss the specific vacancy requirements and wishes to see what position suits you best.
What we offer
25 holidays

8% holiday allowance

Free lunch

Multiple company parties during the year

View of a permanent contract