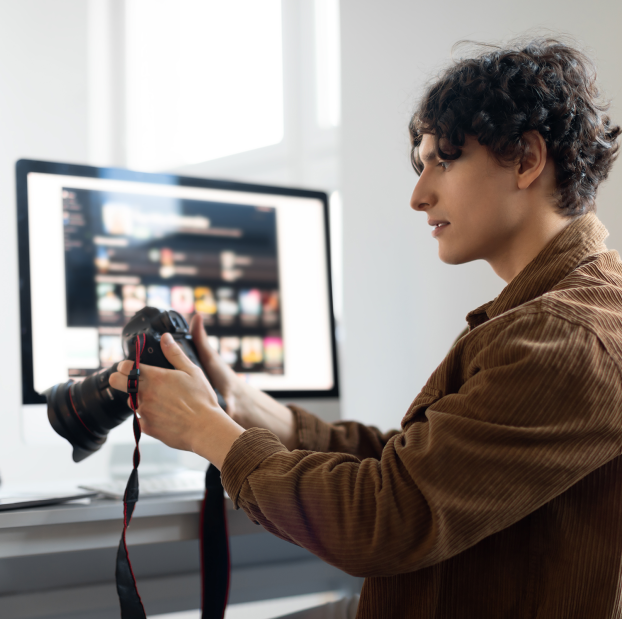 Place: De Lier and sometimes Waalwijk
Hours: 28-32 hours
Level: Secundairy Vocational Education (MBO niveau 4) or higher
Salary: € 2.500 – € 2.800
As a Content Creator you will work in the Marketing department together with one other colleague and your manager. The Marketing department is serving all companies from Home of People. Due to continued growth, we are currently looking for reinforcement of an energetic, social and creative content creator, who is willing to work in De Lier but works one day a week in Waalwijk. We are looking forward to your creative ideas!
We are a hands-on Marketing department in which you can execute your own ideas. As Marketing is the center of the organization you will be working together with colleagues from all the departments within Home of People to create content. Think about recording vacancy videos with our recruiters, retreiving information from our Sales department to write a vacancy for our jobboards or recording a video with a client together with our coordinators. Together as a team we work together every day, but you will also have your own projects and will work remotely if needed.
Your tasks
Write vacancies and place them online;
Write a monthly newsletter for our flexworkers;
Make and edit photos and videos for our online channels;
Manage our online channels (Facebook, Instagram, TikTok);
Create designs for use (online advertisements, stationary etc.);
Support our recruitment department.
Your future working day:
It is 08:30 on Tuesday and you arrive at the office in De Lier. You meet some colleagues on the way up and have a nice chat. You walk up the stairs and see that your colleague is already hard at work. You sit down at your desk, check your e-mail and have a quick chat with your colleagues. One of them mainly works in Waalwijk, so you call her in to discuss things and coordinate the work. After the consultation, you quickly get to work!
You took several photos at a client's location yesterday. The aim of the assignment was to depict the employees as well as possible, to give a good impression of the vacancies they have open. You put the photos on your computer and start making a good selection and editing them. Of course, you always keep Home of Peoples' branding in mind. After you have edited a number of photos, you write a catchy text for our social media channels. The texts should be written in English.
As you are scheduled to make a video of the management next week, you prepare a script. You devise and write a creative briefing and share it with the people involved. This must be a super cool video! No day is the same in your role as content creator and that is exactly what makes this job so fun and challenging.
What we ask
You have Secundairy Vocational Education (MBO niveau 4) or higher thinking level;
You have (internship) experience in a similar position;
You are willing to work remote in De Lier and Waalwijk;
You have a driving licence B;
You are native in Polis and can communicate in English or Dutch;
You have (some) experience with Adobe programs as Premiere Pro and Photoshop;
You are creative, can work independently and dare to show yourself.
Are you interested in this position? Please send your CV to Robyn Paz via robynpaz@homeofpeople.nl of or call +316 51745739.
What we offer
Starting salary between € 2.500 - € 2.800 based on fulltime employment

25 holidays and 8% holiday allowance

iPhone, laptop, camera and everything that comes with content creating

Company car for work-related travelling

Room for personal development with courses and education

Lunch every day

Company events